By royal decree, Demon Turf has been upgraded to the Queen's Edition!
What does this mean we hear you ask? It means we've packaged our previously standalone game Demon Turf: Neon Splash with Demon Turf's DLC Demon Turf: Tower and the Level Editor into the ultimate package of demon-y goodness.
It gets better… Anyone who already purchased Demon Turf before this update gets all these extra goodies for FREE!
So what are you waiting for? Dive into Demon Turf and see where Beebz's antics take you 🙂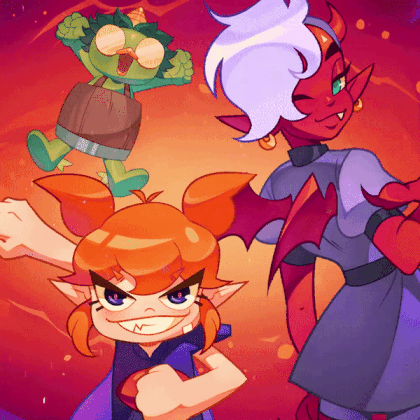 FAQ
Does this update come with any pricing changes?
The upgrade to Queen's Edition increases the game's price from 25$ to 30$ for any future purchases as the game's content has nearly doubled since launch. This upgrade, and its new content, is free for anyone who has bought the game before today.
Before today Demon Turf and Neon Splash were bundled together and sold as stand-alone titles. The Queen's Edition combines both games. If you are buying Demon Turf Queen's Edition, this means you do not need to buy Neon Splash separately.
If you already own Demon Turf, you don't need to do anything. You'll also have access to Neon Splash from the launch window.
How do I access all of the new content?
The game now has a fancy launcher allowing you to pick which game to play! Demon Turf, Demon Turf Neon Splash or Demon Turf Tower. Don't worry, this works seamlessly with any gamepad as well as on the Steam Deck!
Will the console versions get the same upgrade?
Unfortunately not due to technical reasons. The level editor heavily relies on Steam's online services. Neon Splash & Tower are separate applications which one can't bundle in a launcher on consoles. We are happy to report, however, that the Neon Splash standalone version is also launching on EGS & GoG today in addition to being available on the Nintendo Switch already.
Are y'all working on a new game yet?
Heck yes. It's huge, ambitious and BEAUTIFUL… Any Demon Turf fan will be unbelievably excited about where we're taking the Expressive Platformer genre next. It is, undoubtedly, the most excited I've ever been for one of our games and I can't wait to show it off more! BUT… We need more time in the kitchen and sincerely ask y'all to let us cook for a bit longer!